Embroidery on Knits book by Judit Gummlich
I am so excited about this fabulous book Embroidery on Knits, which will transform your knits with a handful of simple embroidery stitches: a cosy cardigan embellished with bright flowers, a dragonfly on the front of a sweater and mittens with plants climbing up the back of the hand. This timeless embroidery book features 18 nature-inspired templates, generously complimented by insightful tips and ideas on how to use them. Embroidery on Knits is an in-depth guide to contemporary stitching with and on wool, explaining every step of the process — from planning to finished project. It is a source of inspiration and knowledge for crafty beginners and savvy stitchers alike.
From the fist glance in the publishers email to having book in my hands, my excitement has just gone up and up. I wish I can knit and embroider every single project from the book! You know that feeling, don't you? However, I realise I need to be a bit more selective to enjoy it fully. So here is my little guide on how I will be approaching this book.
First - very obvious, purchase the book Embroidery on Knits by Judit Gummlich Timeless (timelessonline.co.uk) . I have tucked one copy away for myself. You have to have some advantage in running the place:-)))
Second - before getting out and purchasing all the "gear" you can't possibly embroider without, read the part of the book about tools and equipment. The best advice I have had for long time. I have chosen project where I do not need embroidery hoop as I do not have one (I know, shocking isn't it!)
Third - and that is what I will do. I have only very basic understanding of embroidery stitches and I am very eager to start NOW! I have chosen one very simple project from the book to start and will be using Tin Can Knits pattern The World's Simplest Mittens (Free on Ravelry) to get my base for the embroidery. I will be knitting my mitts in Aran weight yarn Rico Organic Wool Aran and gather some scrap yarn for actual embroidery.
I hope you will enjoy the book as much as I do and it makes you go out and be more adventurous with your knitting.
For those of you, who feel more adventurous, here below is a list of 5 yarns you can consider for projects in the Embroidery on Knits book.
1. Isager Jensen (DK) yarn - the colours are just so corresponding with the book
2. Isager Highland (4ply/fingering) - use it for embroidery or actual knits
3. Isager Alpaca 1 (lace weight) - fine embroidery
4. Woolstock Mini Skein sets - fab sets of colour coordinated mini skeins
5. Knitting for Olive Pure Silk - to add slightly different texture.
Here is a link to the 5 Tips for Embroidery Beginners blog post by Judit Gummlich, the author of Embroidery on Knits to help you get started.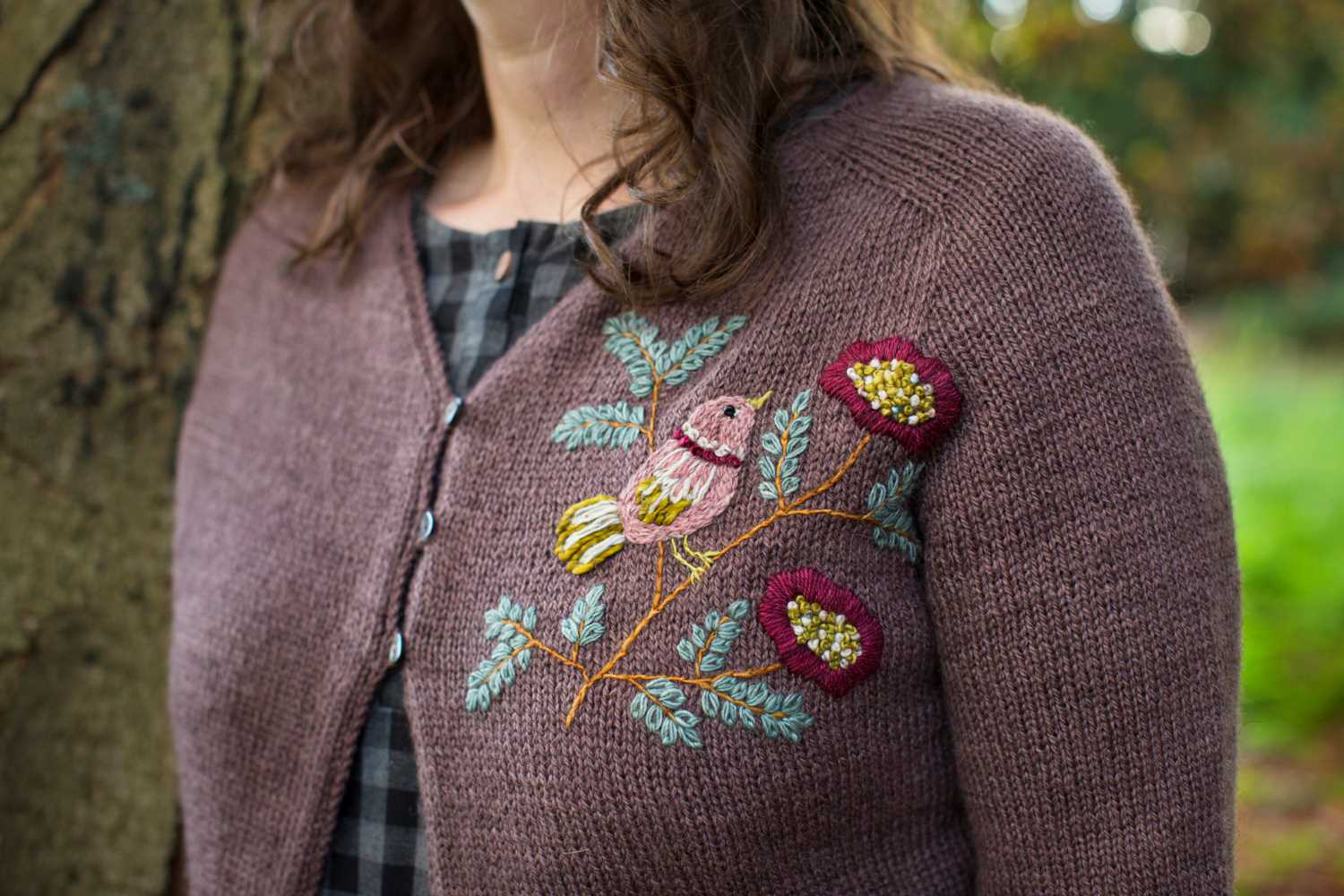 Embroidery on Knits comes with a folded up A1 poster containing all templates for the book's 18 embroidery projects. The publishers have decided to make these templates also available digitally. (And for free!) This allows readers to resize the templates, print them out individually or trace them from a screen directly. Whether it's for a children's cardigan or a hand knitted blanket — in that way all the templates can be adapted for any planned project in any size. I hope that the downloadable and printable PDFs make the book even more user-friendly, cheering people to grab their knits, a needle and threads and get stitching!
Download your pattern PDF here Embroidery templates.