Free Knitting Pattern for Sunshine Beanie Hat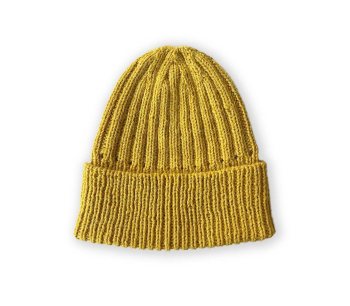 The new SUNSHINE BEANIE is designed by Helga Isager and is knitted with 100 g of Isager Sock Yarn.
The hat designer Helga Isager writes about the beanie: I wanted to knit a hat for Ingrid in Isager Sock Yarn, and she chose the colour yellow. My idea was to test if Isager Sock Yarn would be suitable for other projects than socks – and it definitely is!
I knitted the Sunshine Beanie with two stands of Isager Sock Yarn on needle size 3.5 mm. While knitting the beanie, the fabric may seem a bit dense, but when it has been washed it becomes softer and keeps the shape very well. The beanie can be knitted in two versions: either with a K1-P1 rib and an eyelet pattern (as shown in the picture) or knitted in a K2-P2 ribbing throughout the work. My husband loves to wear his K2-P2 version in colour 37 and the next beanie will be for myself, and the colours to choose from are many.